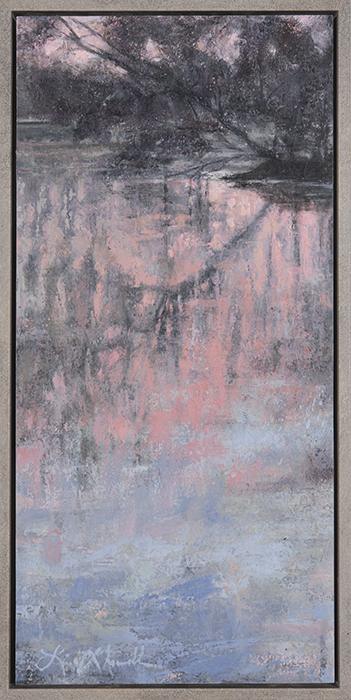 oil and cold wax
I am a professional mixed media artist and teacher. I started drawing and painting intensely as a child without any influence. I have since studied privately under Hillary Miller, Nicki Heenan, and Gillian Lee Cox. 
Today, much of my work concentrates on seeking and memorializing the perfect moment in time spent in the outdoors where I feel open to receiving nature and all of her gifts and to connecting with God. I seek to convey my response to a particular scene through abstraction while keeping a sense of place intact. By doing so I hope to share a common bond with my collectors who are reminded by my work of moments in time they spent in the outdoors that left a lasting impression.
I consider myself a mixed media artist where I have developed a particular affinity for oil mixed with cold wax. Cold wax is a
newer medium in the art world and consists of beeswax and resin. It can be used to paint in a traditional oil manner, but it can also be applied with instruments such as the brayer, spatula, knife, squeegee, and pretty much anything the artist comes up with. It allows for thick application or several layers of thin oil and cold wax. Opacity and translucency can be obtained with knowledge and experience. It then becomes a dance between application and excavation and removal with instruments and spirits. The thing I love about it the most is I am never quite sure just what is going to happen or what the end result is. The only thing I am certain of is that it gives my work more expression as to what I am trying to convey to my viewers. It somehow wraps my soul into the work much more so than any other medium.