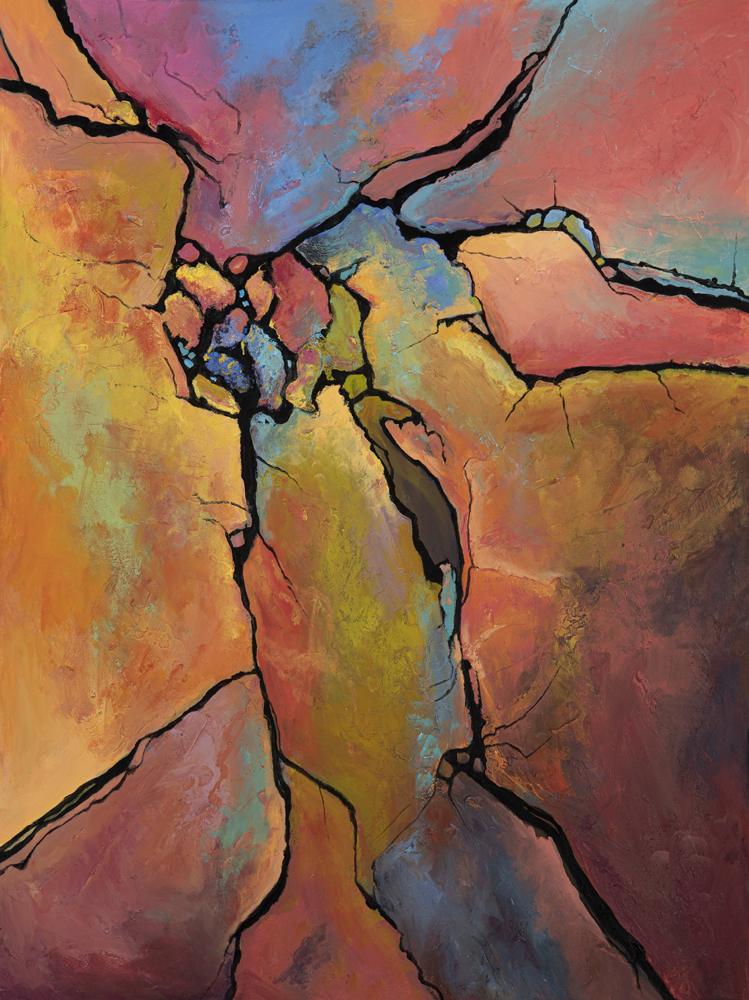 Acrylic on wood panel


Last summer Stephen Smith Gallery invited me to take another approach to abstracts by incorporating the "Color of the Year", so I selected Sherwin Williams as my color muse.  The color of the year for SW is called Redden Point, a muted cool red tint. 
Not really having a specific "theme" I contemplated what direction I wanted to take the work, because I personally don't do well with non-objectiveness.  One night (about 3 am, as I tend to wake up early obsessing and problem solving) I woke up with the concept of "Sticks and Stones".  This theme resonated with me on two fronts.  One path was a very literal interpretation of the theme by incorporating mark making with sticks/rocks and using the imagery of stones or the texture of stones throughout the project. 
The second aspect of the theme would touch on the personal and emotional use of the irreversible binomial "Sticks and Stones", a childhood saying we all have heard many times.  I thought about this anti-bullying slogan of old, and I realized how in theory it sounds good but in reality, it is difficult to practice.  Visual artists, who are so brave to present their works to the public, fully know there will be people who love their work and others, not so much!   So, for me, switching genres to such an extreme was a huge risk in the "What will people think of me?" department.  For some people that would not even matter, but for me it does.  A big challenge was to separate my fears from my actions.
My traditional landscapes are not heavily textured so I wanted to incorporate texture in the new work.  I purchased construction materials such as stucco repair paste, drywall repair paste, crackle compound and heavy gel mediums and used mainly cradled board for my painting surface to be sure the material would stick to the surface.  I gathered twigs and attached a few brushes to the end to make mark making more free form.  I experimented with grease pencils, too.  The limited palette was also a challenge because I wanted to use the Color of the Year and still create a variety of work.  I ended up just using 4-5 colors.  I started out photographing sidewalk and asphalt cracks, floor tiles, and just about anything that could present an abstract, nonrepresentational pattern.  I also grabbed a big pile of fabric cuttings from my sewing trash can and used that on the panels for texture.
 I am a very analytical thinker, so not having something to "see" to emulate was difficult.
Each painting in this series has a common thread but are each different in their own way.