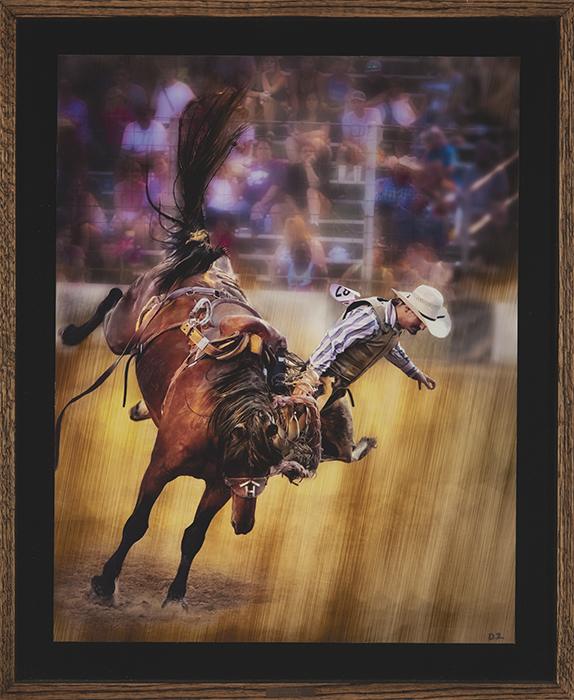 Fine Art Photography
The rodeo is an exciting and challenging subject for a fine art photography series.
It's capturing images of cowboys fighting to stay on the backs of bucking bulls as they try to avoid being launched sky high before the 8-second buzzer. The riders are protected by bullfighters willing to put their bodies between a downed cowboy and a 2000-pound bull with very bad intentions. Bronco competitors face a similar challenge as their mounts try violently to rid themselves of the man up top. There's the skill of the tie-down ropers as they lasso sprinting calves in partnership with great horses that put on the brakes and hold tension on the rope until the judges call time. In the barrel race, cowgirls run horses that maneuver like F-16s in afterburner. All the events require courage, skill and athleticism. It's Americana at its best and an exciting demonstration of the skills used every day by working cowhands on ranches across the West.
My approach to photography springs from my years as a painter:  experience that has forged my aesthetic as a visual storyteller.  As a fine art photographer, I treat my images much like I would a painting. Digital tools have replaced my darkroom in which I spent many years, and pixels in my camera's sensor have taken the place of grains of silver on film. 
These rodeo pieces are not just photographs. They live halfway between the world of photography and painting. I print all the images myself on canvas and seal them for permanence. I've crafted the frames of hand-finished solid maple, oak and mahogany. Each photograph is signed and numbered and a member of a limited-edition series of 15 with a registered certificate of authenticity on the back. They're ready to tell their stories on the walls of your home or office and I'm honored to be able to share them with you.